Interested in eye-catching video and creative media?  
Work with me in your next campaign & stand out from the crowd.
Work with me: moulds892@gmail.com

----------------------------------------------------------------------------------------------------------------------------------------------------------------------
Currently, the city where I call home, Takamatsu is the main city in Japan's smallest prefecture, Kagawa. It's full of great opportunities to explore the real Japan – local festivals, artwork, friendly locals, impressive architecture and beautiful scenery. Every three years, it hosts the Setouchi Triennale which continues to go from strength to strength. It's a vibrant and exciting place to visit that is easily accessible but still well off the usual tourist trails.
Yolanda Retold: Postcards from disaster.
Working with Philippines based charity, Postcards From Disaster, I was tasked with creating a promotional video for their virtual reality exhibition held in central Manila. The work promoted the issues surrounding those families still living in tsunami-hazard zones following the devastation caused by super-typhoon Yolanda. The client request was for an "energetic and upbeat" promotional video, showcasing the cameras and teams involved. This video and my photography was eventually featured by multiple international news agencies and helped to bring attention to the successful exhibition. 
YOUTUBE INTRODUCTION: SAYURI SAYING.
Sayuri is an up and coming YouTuber and Podcaster. Teaching Japanese and working relentlessly to create exciting and effective materials for her students, it is important that her channel looks as professional as possible. Little touches, such as a stylish and modern logo animation for her channel are essential in building her brand. In just under 6 seconds, this was one of my first motion effects pieces and one that I'm still proud of. 
Takeshi runs his own modern and stylish hairdressers which is more than just a place for a haircut. He uses his business to work within his community, not only cutting hair but establishing an annual festival that promotes local artists and craftsmen. This festival brings people together for music and food as they explore all that their local community has to offer. He was after a simple logo animation that reflected his modern and stylish approach to business within his community. 
​​​​​​​
----------------------------------------------------------------------------------------------------------------------------------------------------------------------
I decided to challenge myself to make a very short commercial from whatever I could find in my apartment and for whatever reason I settled on my running shoes (the only clean and most underused pair I own by a mile).  The challenge was to use as little equipment as possible to create something passable.  For this, I had my Sony A6500 camera, a tripod, a little table and a bit of green drawing paper (makeshift greenscreen) and that's it. Nothing fancy.  I settled on a retro theme and this is how it turned out. Lot's to improve on but I'm pleased with how it turned out. I'm going to keep making these no/low budget commercials in my apartment as they're a good challenge to push creativity. 
Being stuck inside during quarantine has been a bit of a challenge for everyone and videographers have just seen their industry collapse almost immediately. One thing that has been fun to watch however is people going back to making short and simple videos for fun, focusing on creativity rather than expensive gear and schedule shoots. Adobe put out a call for really simple quick-cut videos all about changing your footwear and, well… why not I suppose. It only took about an hour from start to finish but I was really happy that Adobe featured my clip on their creative account! Thanks for the challenge Adobe and for giving me a task to pass the morning. For anyone interested in how this was done, just let me know and I'll be happy to help. All shot on my iPhone (an old rusty model at that too) and edited in free software. Sorry about the gross feet though, that can't be helped!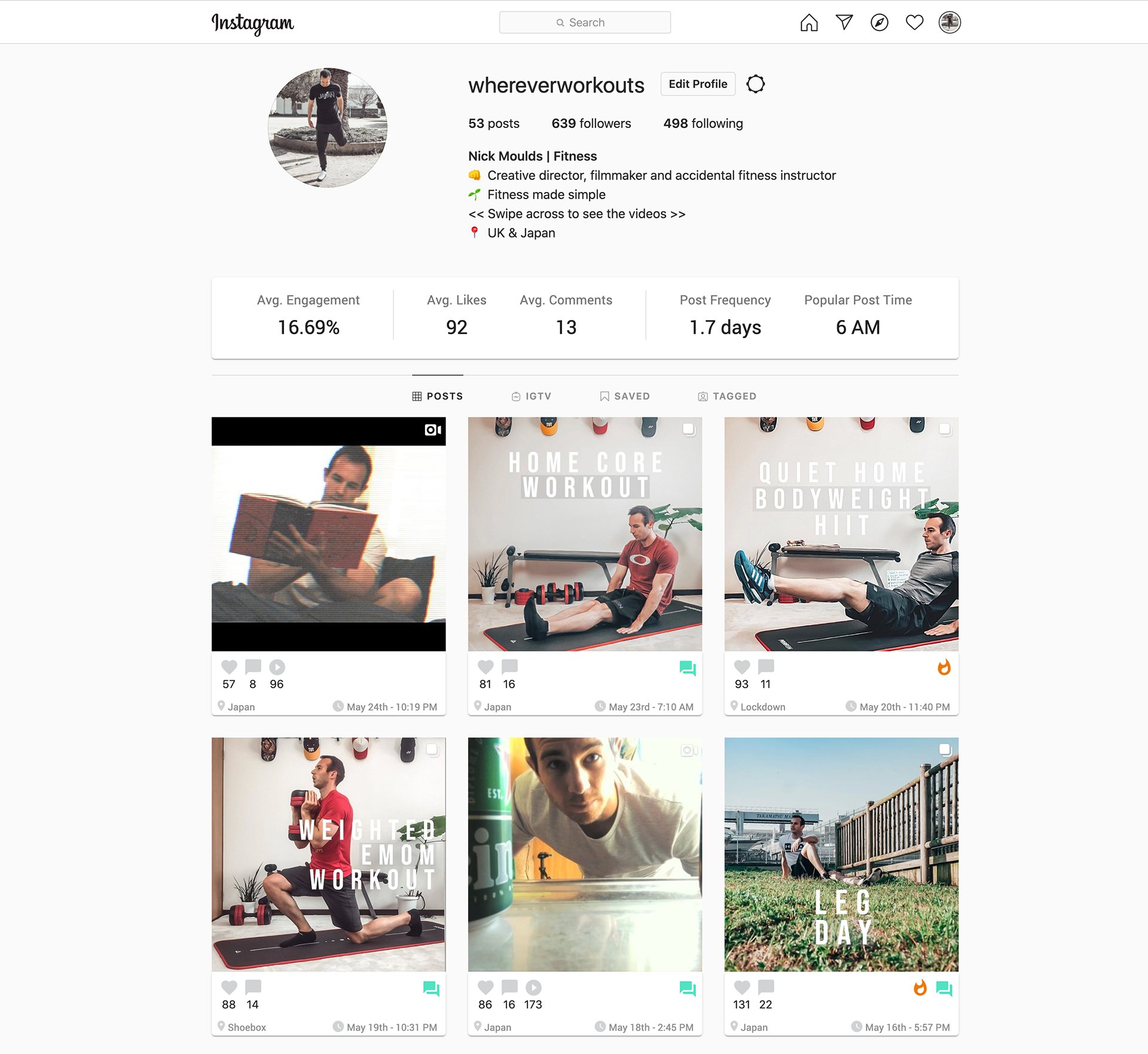 WHEREVER WORKOUTS: BECOMING AN ACCIDENTAL FITNESS INSTRUCTOR.
Combining hobbies can always be a tricky endeavour and this was no different. I wanted to provide friends and family with daily workouts to keep them busy during the Corona lockdown and this quickly spiralled into "Wherever Workouts." Utilising my video skills I combine workout videos with more creative and entertaining clips all centred around the main focus of fitness. 
----------------------------------------------------------------------------------------------------------------------------------------------------------------------
----------------------------------------------------------------------------------------------------------------------------------------------------------------------